Heavy Duty (Oil Cargo Hose)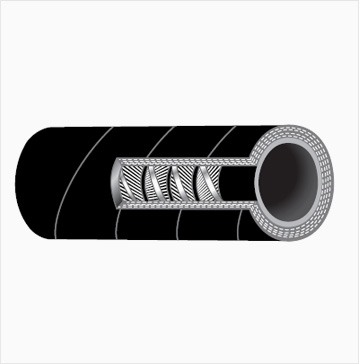 Construction
Tube : Lining Resistant to petroleum products

Reinforcement : Multiple plies of textile fabric with GI embedded wire

Cover : Oil, weather & abrasion resistant
Application
Discharging of petrol and diesel oil from tank truck & between tank, trucks & trailers. Suitable for pressure, vacuum and self discharge. Very low deformation when used for petrol.
Above hose is suitable for petroleum and all other petroleum products with an aromatic content less than 50%.
For Electrical continuity a braided copper wire is provided.
End Connections
Flanged type or threaded nipple duly vulcanized in hose or as per purchaser's requirement.
Application
Loading and discharging of petroleum products aboard ship with an aromatic content.
Features : Integrally embedded spiral designed for pressure or vacuum.